2019 Small Business Financial Planning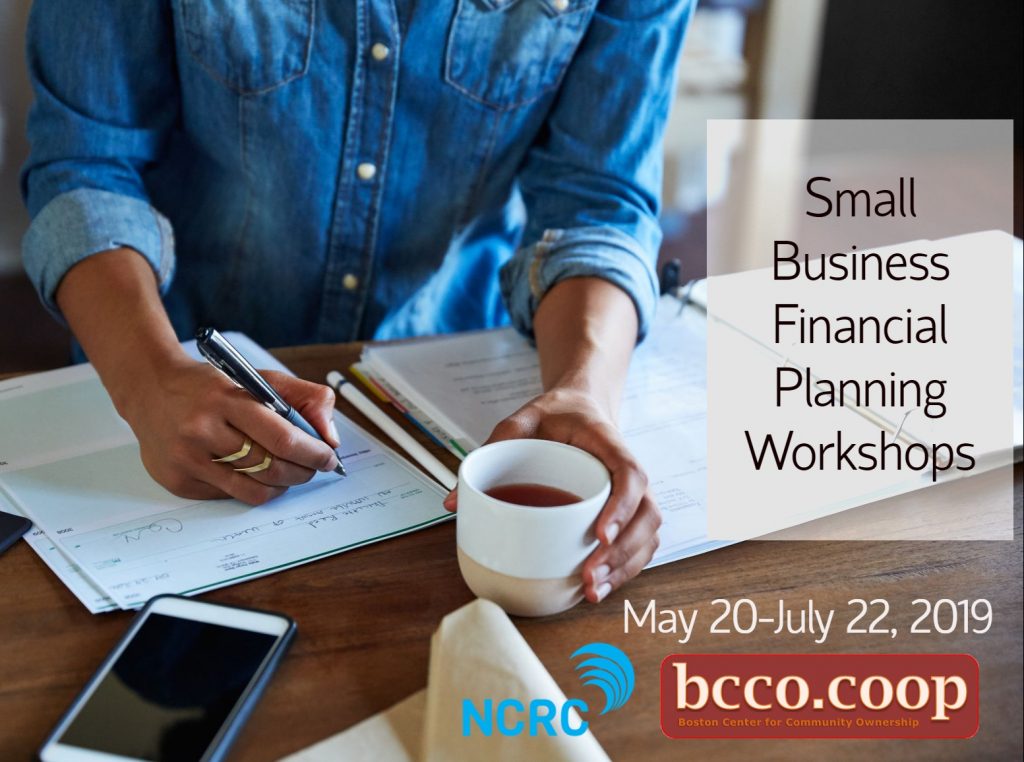 BCCO is pleased to announce this workshop series, sponsored by the National Community Reinvestment Coalition, with funding from Santander Bank, and support from TESA Collective. If you are a small business owner or employee and you're getting ready to launch or expand your business, this series is designed for you. Our goal is to de-mystify small business financial planning, help you understand what your financial reports are telling you, help you make solid financial decisions based on your actual financial performance, and to make sure you look good when you apply for loans and investments.
The workshops will take place at the Fields Corner Business Lab, located at 1452 Dorchester Ave, 4th Floor, Fields Corner, Dorchester MA. The workshop is free, but you must pre-register using our online registration form here. Seats are limited, and preference will be given to cooperatives and businesses owned by, or employing people with barriers to employment and ownership, such as immigrants, people of color, low-wealth individuals, and those with CORI records. Spanish language interpretation will be available, as well as individual coaching between sessions for those who want more support. Our instructor is Stacey Cordeiro, who has been working for almost 20 years assisting cooperatives and small businesses. Please see our online registration form for more information and logistics.
May 20: Income Statements, Markup and Margin, and the Break-Even Point
Bring your Income Statement (aka Profit & Loss Statement) from your existing business, or work from a sample statement that we provide.  Learn the difference between direct and indirect expenses, how to calculate Gross and Net profit margins, and how much markup you should be charging to cover your overhead costs.  Learn how to visualize your break-even point, and how to use that number to steer your path toward profitability.
June 3: Balance Sheet, Working Capital – Indicators of business financial health
Bring your Balance Sheet from your existing business, or work from a sample we provide.  Learn how to think about what you "own" and what you "owe", and calculate some simple indicators to help you assess the financial health of your business.  Learn how to calculate working capital, and why it's so important to the financial health of your business.
New Date – June 17: Cash Flow Statements, Debt Service Coverage Ratios
Learn to construct a Cash Flow Statement, working from an Income Statement and Balance Sheet (bring statements from your existing business, or work from samples we provide).  Learn the crucial difference between profits and cash and answer the questions: If we're profitable, why is there no cash? OR If we have cash, why are we not profitable? Learn how to calculate your Debt Service Coverage Ratio – a key indicator to know if you plan to apply for a loan.  Understand what Payables and Receivables are, and how they add – or subtract – cash from your business.
June 24: Creative ways to finance a business: Where to find loans and investment for your business
It takes money to make money – so where will the money come from?  It isn't easy to raise money for a business, and most entrepreneurs make use of several different methods to put together the financing they need. Learn how to make use of debt and equity financing, crowdfunding and more.  We will discuss what lenders and investors are looking for when reviewing your loan application, and learn from real-world examples of local businesses that found the funding they needed to succeed.
Getting Loan Ready (a two-part, hands-on workshop): How to forecast your Income Statement, Balance Sheet, and Cash Flow
Session I, July 8: Forecast overhead costs, sales, and per-unit costs to create a projected Income Statement.  Forecast cash provided by loans and investments, and any capital purchases needed in the future.  Identify gaps in your projections that need further research.
Session II, July 22: After doing any necessary research to fill in unknown numbers on the projected financial statements, participants will come back together to share their financial projections and give a practice pitch to a theoretical funder.  
Ready to sign up? Please fill out our registration form, or contact us with any questions through our online contact form, or call 617-446-3608.